About Ekici
Return to home page
ABOUT US
Since 1957, Ekici Cheese has been engaged only in cheese production and it has introduced its quality and delicious cheeses to consumers.
Having a milk processing capacity of daily 400 tons on total of 42.000 sqm area in its factory in Antalya Organized Industrial Zone, Ekici Cheese is among the first 1000 biggest companies of Turkey as explained by the Chamber of Industry of Istanbul.
Producing cheese of quality milks which are carefully accepted, Ekici offers approximately 30 kinds of products to its consumers. Being available through 84 dealerships in 80 provinces and 44,000 points with its products, Ekici Cheese employs nearly 500 people in its factory in Antalya. Attaching importance to export, Ekici exports its quality cheeses which are produced under hygienic and healthy production conditions to Cyprus, Jordan, Afghanistan, Turkmenistan, Azerbaijan, Iraq and Kyrgyzstan and other countries.
Ekici Cheese continues its investments in order to make production in compliance with international standards. Having transited to full automation system in white cheese in 2015, Ekici's efforts are pending to transit to full automation in other cheese types, too.

OUR STORY
Ekici's story starts with Şabettin Ekici in a small dairy farm in Eregli district of Konya in 1957. Processing nearly 1 ton ewe milk a day to produce white cheese, Şabettin Ekici, meanwhile, starts to convey his knowledge and experiences to his children Mansur and Mustafa Ekici. As ewe milk can be collected in 2 months' period only in the spring season and availability of cow milk in the region is limited, failure to provide production continuity enables Ekici to take its first step for growth. In order to save the company from being dependent on the periodical milk stock, Mansur and Mustafa Ekici brothers moved Ekici Cheese to a new dairy farm in Varsak town of Antalya in 1979. Spreading its cheese production to the whole year as there was also cow milk in this new dairy farm, Ekici Cheese continued to only produce white cheese with the gradually increasing demand. Presenting "Beautiful White Cheese" as a unique alternative for its consumers with an innovative approach and creating difference in the sector, Ekici Cheese moved to its new factory with 100 tons of milk processing capacity per day in Antalya Organized Industry Zone in 1997 in order to meet this intensively increasing demand in time and to seek more product diversity. Expanding the production capacity and area of the factory with the increasing demand, Ekici Cheese today produces hygienic and quality cheeses in conformity with quality standards and offers these cheeses to consumers all around Turkey. Adopting the words of the founder Şabettin Ekici "Do the work that you know in the best manner" as a philosophy, Ekici Cheese maintains growth by protecting its work principles and ethic which passed down from generation to generation as its biggest heritage.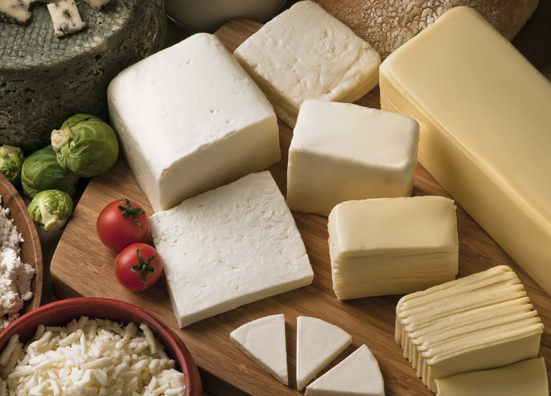 World OF Ekici
Ekici Cheese produces only cheese of milks of the highest quality with its experience dating back to half a century.
Ekici is irreplaceable in the dishes with its specific smell and excellent stability.
VISION & MISSION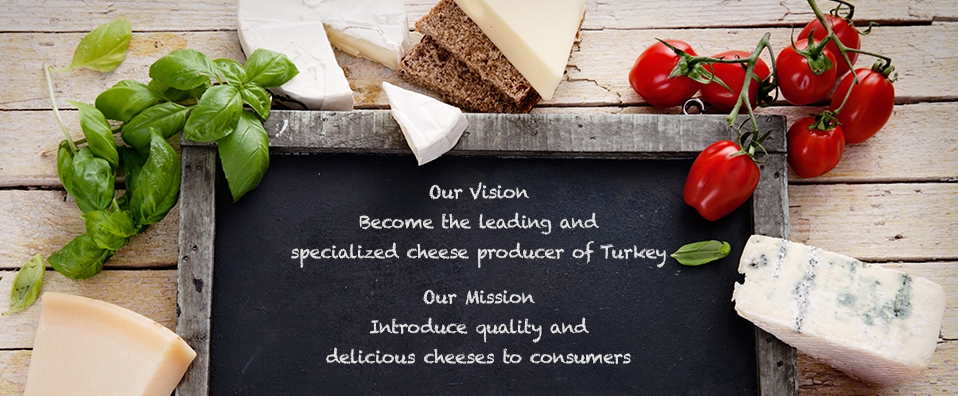 OUR QUALITY POLICY & CERTIFICATES
The cheeses that Ekici Peynir produces with experience and specialization is our biggest guarantee in our goal to become the leading cheese brand of Turkey. While proceeding in line with this goal; our fundamental principles are:
• Only do the thing that we are specialized in
• Introduce the most delicious cheeses to our consumers in conformity with national and international quality and security standards
• Always follow technological improvements to offer the best, make necessary investments
• Centralize the customer and perpetuate customer satisfaction
• Execute encouraging works for employees to improve their knowledge and skills
• Improve our suppliers to produce the best cheese
• Perpetuate efficiency through our R&D works and contribute to cheese culture by improving new products.
Our Quality Certificates –
- ISO 9001 Quality Management System
- ISO 22000 Food Safety Management System
- BRC Global Food Safety Management System
- ISO 10002 Customer Complaints Satisfaction Management System
- TSE Halal Conformity Certificate
- TSE Covid-19 Safe Production Certificate